Information A – Z
Brochure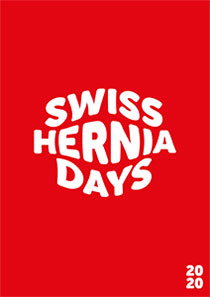 Please take a look at our current Swiss Hernia Days Brochure (pdf)
Conference Venue – Congress Center Basel (CCB)
The SWISS HERNIA DAYS will take place at the Congress Center Basel which is one of the most modern congress centers in Switzerland. Equipped with the latest technology, it provides an excellent atmosphere for conferences and exhibitions. The Congress Center is located directly alongside Messe Basel in the heart of the city. The historic Old Town, the shopping areas and the many museums and parks can be reached comfortably by foot or by public transport.
Congress Center Basel
Messeplatz 21
4058 Basel / Schweiz
www.congress.ch
Currency
All official prices are indicated in Swiss Francs (CHF) which is the official currency in Switzerland. All major credit cards are accepted in most hotels, restaurants and shops.
Insurance
The conference organiser cannot accept liability for personal injuries sustained, or for loss or damage to property belonging to conference participants, either during or as a result of the conference. Please check the validity of your own insurance.
Language
The congress languages are English and German, however, all presentations will be held in English.
The official language of Basel is Swiss-German. French and English are widely spoken.
Mobility Ticket
Each guest staying in a hotel in Basel, receives a Mobility Ticket upon check-in. This allows free use of the public transportation system in the city of Basel and its environs (zones 10, 11, 13 and 15, incl. the way to and from the Airport). The ticket is valid for max. 30 days. On the day of arrival, the reservation confirmation from the hotel guarantees a free transfer by public transport from the train station or the EuroAirport. So please don't forget to print your hotel confirmation and to take it with you on the tram or bus!
Restaurants
Basel offers a wide range of international restaurants as well as typical Swiss cuisine, such as Roesti, Fondue and Raclette.
Shopping
Shops in Basel are usually open Monday through Friday from 09:00 – 18:30, Saturday from 09:00 – 17:00. Several larger department stores are open until 20:00.
Tipping
Service is almost always included in hotel and restaurant bills. A further tip of a few coins is appropriate
(Restaurants 5 – 10%).
Transport in Basel
The Congress Center Basel (Tram stop Exhibition Square) is easily accessible from all railway stations:
From the SBB/SNCF railway station, take tram no. 1 or no. 2 directly to the Exhibition Square (Messeplatz)
From the Badischer Bahnhof, take tram no. 1, no. 2 or no. 6
From Basel downtown take trams No. 6 or 14
Visa Requirements
In case you need an invitation letter for visa purposes, please contact the Congress Secretariat (swissherniadays[at]congrex.com). We strongly advise to contact the Congress Secretariat as early as possible.