Registration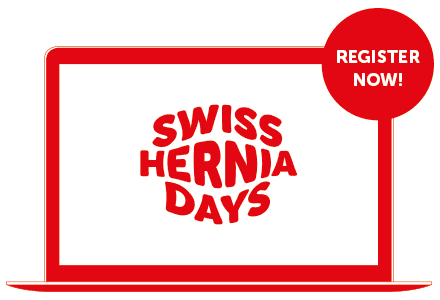 Register now and take your chance to win! We will raffle one MacBook Air among the first 50 registered participants in the category «Trainee/Resident/Student».
Click here to register online for the SWISS HERNIA DAYS.
Registration Fees
Registration Fees (CHF)
Until 13 August 2019
As from 14 August 2019
Consultants / Others
CHF 350
CHF 450
Trainee/Resident/Student
free of charge
free of charge
Delegate from Low-Income Economy**
CHF 150
CHF 150
Day Card
CHF 230
CHF 250
Exhibitor, full registration***
CHF 350
CHF 450
Networking Event
24 October 2019
CHF 95
CHF 95
Networking Event
(low/middle income country**)
CHF 50
CHF 50
* «Residents/Trainees» have to upload a written confirmation letter during the online registration process signed by the head of department, confirming their status as such. "Students" (not older than 30 years old) have to upload a copy of their valid student picture ID during the online registration process. The age limit for a student is set at 30 years.
** The reduced rate is available to all participants of a country designated by the World Bank rating as a low / lower-middle income economy. Please click here to view a list of these countries:
Afghanistan, Angola, Armenia, Bangladesh, Benin, Bhutan, Bolivia, Burkina Faso, Burundi, Cabo Verde, Cambodia, Cameroon, Central African Republic, Chad, Comoros, Congo, Dem. Rep, Congo, Rep., Côte d'Ivoire, Djibouti, Egypt, El Salvador, Eritrea, Ethiopia, Gambia, Georgia, Ghana, Guatemala, Guinea, Guinea-Bissau, Haiti, Honduras, India, Indonesia, Jordan, Kenya, Kiribati, Dem. People's Rep. Korea, Kosovo, Kyrgyz Republic, Lao PDR, Lesotho, Liberia, Madagascar, Malawi, Mali, Mauritania, Micronesia (Fed. Sts.), Moldova, Mongolia, Morocco, Mozambique, Myanmar, Nepal, Nicaragua, Niger, Nigeria  , Pakistan, Papua New Guinea, Philippines, Rwanda, São Tomé and Principe, Senegal, Sierra Leone, Solomon Islands, Somalia, South Sudan, Sri Lanka, Sudan, Swaziland, Syrian Arab Republic, Tajikistan, Tanzania, Timor-Leste, Togo, Tunisia, Uganda, Ukraine, Uzbekistan, Vanuatu, Vietnam, West Bank and Gaza, Yemen, Zambia, Zimbabwe
What is included?
The registration fee includes:
access to all scientific sessions and the industrial exhibition
lunches and coffee during the session breaks
Group registration
In order to register an entire group for the congress, please contact the Congress Secretariat at swissherniadays@nullcongrex.com.
Invitation letter
In case you need an invitation letter for visa purposes, please contact the Congress Secretariat (swissherniadays@nullcongrex.com). We strongly advise to contact the Congress Secretariat as early as possible. Also, please note that you need to be registered and have paid the registration fee in order to receive an invitation letter.
Payment Methods
You can either pay by bank transfer or credit card. All fees for congress registration should be paid in CHF in advance to the Congress Secretariat of the Swiss Hernia Days 2017, clearly stating the participant's name and address (when paying by bank transfer).
Cancellation Policy
All cancellations must be electronically mailed to swissherniadays@nullcongrex.com
Refund of registration fees will be as follows:
Cancellations received up and including 5 September 2019: Refund minus 25% handling fee
No refund on cancellations after 5 September 2019
For any name changes, a fee of CHF 50.00 will be charged
Please note that the cancellation policy is deemed to be accepted as soon as the registration has been completed.
Material Pick-up
Registered delegates receive all their congress material on-site in the registration area.
Responsibility
The participant acknowledges that he/she has no right to lodge damage claims against the organisers should the holding of the congress be hindered or prevented by unexpected political or economical events or generally by "force majeure", or should the non-appearance of speakers or other reasons necessitate programme changes. With his/her registration, the participant accepts this proviso.
Congress Secretariat
Swiss Hernia Days
c/o Congrex Switzerland Ltd.
Reinacherstr. 131
4053 Basel / Switzerland
T: +41 61 686 77 77
F: +41 61 686 77 88
E: swissherniadays@nullcongrex.com
W: www.swissherniadays.com